Ramon Llull (c. 1232–1315, usually "Lull", "Lullius" or "Raymond Lully" in languages other than Catalan)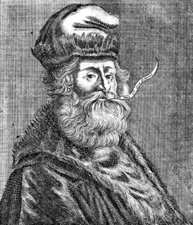 The Book of the Lover and the Beloved (Llibre d'Amic e d'Amat) is a collection of mystical aphorisms contained in Blanquerna, considered by some to be the first European novel, and the most famous literary work by Blessed Ramon Llull, a Majorcan philosopher, logician and Franciscan tertiary considered a pioneer of computation theory and known as Doctor Illuminatus.
They said to the Lover: "Whither goest thou? He answered: "I come from my Beloved."
"Whence comest thou?" "I go to my Beloved."
"When wilt thou return?" "I shall be with my Beloved."
"How long wilt thou be with thy Beloved?" "As long as my thoughts remain on Him."
Click here to read the English translation
or click here for a selection in the original Catalan
---
Other links of interest relating to Llull are the Universitat Ramon Llull, and the Centre de Documentacio Ramon Llull at the University of Barcelona.