—London, 7th April, 2014
Four years after the launch of the Common Ground Islam-Buddhism project in Bloomington, Indiana, a new chapter in the story of this initiative took place in London, when we celebrated the World Interfaith Harmony Week by bringing together Rev. Kemyo Taira Sato, director the Three Wheels Shin Buddhist Temple, and Dr Reza Shah-Kazemi, author of several works on Islam and comparative religious studies.
Emma Clark, Rev. Sato, Reza Shah-Kazemi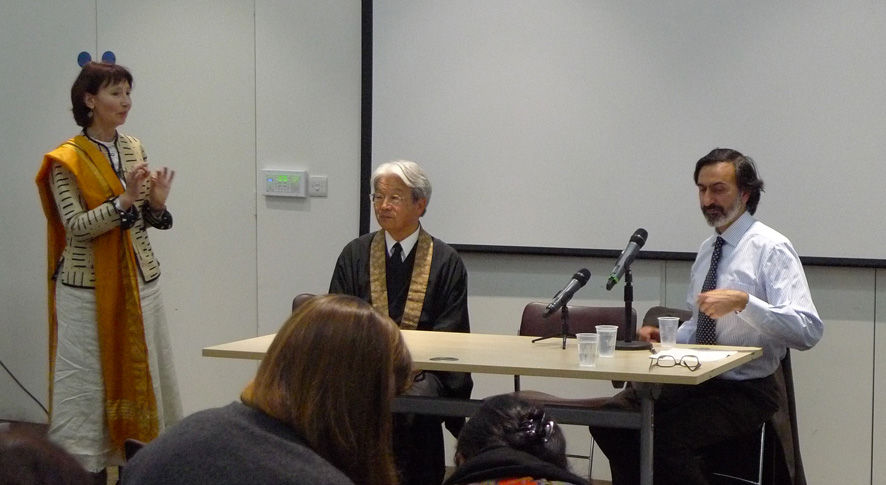 The evening, introduced by Emma Clark, from the Prince's School of Traditional Arts, started with a documentary film about the project. After the film, Rev. Sato and Dr Shah-Kazemi took turns to share some reflections and to answer questions. Their contributions can be accessed through the links below.
• Rev. Sato's paper, 'A Brief Talk at the Interfaith Meeting between Buddhists and Muslims' (click here for a tablet version).
According to Buddhist teaching, true love is not conditioned by anything, not even by the Dharma or religious truth. If, in their encounter with other religions, people are too attached to their own teaching, it can lead to terrible conflicts. Such dogmatic attachment is called "Dharma-ego" in Buddhism and is to be avoided at all costs.
Rev. Sato, Reza Shah-Kazemi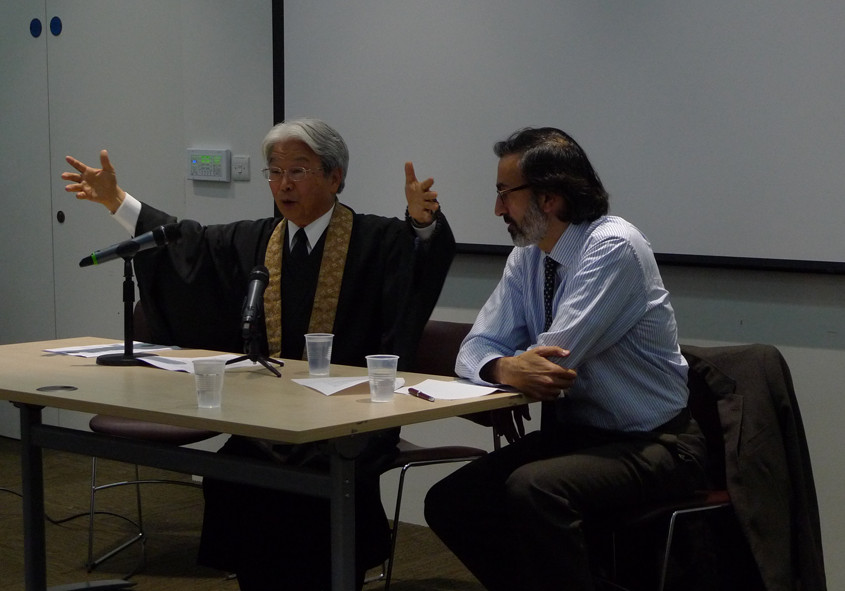 • Dr Shah-Kazemi's text, 'Pure Land Buddhism and Islam' (click here for a tablet version).
One of the most important lessons we, as Muslims, can learn from the
Amidist tradition relates to the meaning of the word islam.
---
The Matheson Trust is grateful to the speakers for an evening which is certain to have left a lasting impression on the audience. Once again, as in previous events, a profound sense of the universal truth at the heart of the major religious traditions was made palpable thanks to the self-effacement and commitment of their representatives.